Advanced Flight Planning Tool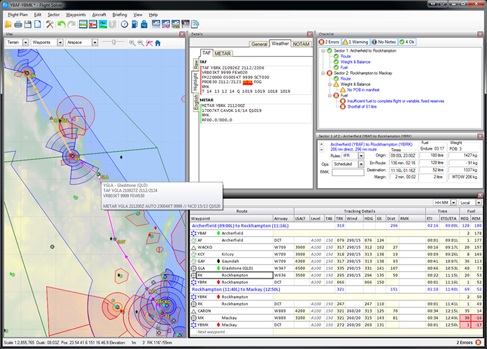 Flight Solver is a flight planning tool with a difference.
It will guide you through the whole flight planning process without being prescriptive.
At each stage of the planning process it will check that everything makes sense. Errors or omissions become immediately evident on the Checklist.
Flight Solver helps you come up with the perfect plan
Instead of merely accepting a plan that was already planned using maps, charts and other resources, Flight Solver will guide you through the whole flight planning process, constantly checking and cross checking to ensure that everything has been taken care of.
Key features are:
What's more - Flight Solver will come up with more than one solution and display them on the screen as you consider them.
Click on an item in the checklist to fix the problem.
Set the fuel to maximum possible while remaining within Takeoff, Ramp and Zero Fuel limits.
Flight Solver can work backwards - so if you have a specific departure or arrival time in mind for one sector, Flight Solver can tell you when to leave on the preceding sectors to still make it on time.
Arrive before End of Daylight or leave after First Light.
See the balance at Ramp, Take off, Landing and Zero Fuel states.
Flight Solver will immediately alert you if you have exceeded a limit.
Figure out which element your TAF, METAR or ARFOR is causing the problem - individual items, such as reduced visibility, are highlighted.
See weather lines (such as troughs) on the map in relation to your flight plan without having to use a PCA.
Quickly select the locations to print by proximity to your route. Select which items within a location to print.
See the layered control zones and the terrain.
Click on the map to create or modify your plan route, or to find information about the area under the cursor.
---
Copyright © 2011 - 2019 Jensware Pty Ltd